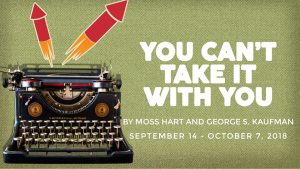 LTVB is looking for exceptional performers for its fall production of You Can't Take It With You:
A snake enthusiast, a pyrotechnician, a confectioner, and a xylophonist; these are just a few of the brilliant, but slightly odd members of the Sycamore family. They live in a house populated by their extensive creative projects and varied pursuits,  and everyone with an open heart and a will to create is welcome to stay as long as they wish. It seems as if the Sycamores have created the perfect artist's haven, but Alice, the youngest daughter, sees her family as forgetful, erratic, and distracted. The slight tinge of creative madness that affects most of her family has bypassed Alice, and when she falls in love with the son of a prominent Wall Street businessman, she fears her mercurial relatives will undo her chances at living a normal life.  Whimsy and tradition collide in You Can't Take It With You, a madcap comedy written by Moss Hart and George S Kaufman that asks us to question the conventional and embrace the mayhem of an unusual family.
AUDITION DATES/TIMES
(1)  Auditions will be held Monday, July 2nd and Tuesday, July 3rd starting at 7pm.
(2)  Call backs: Some (but not all) auditionees may be called back for follow-up auditions on Thursday, July 5th at 7pm. .
If you have a headshot and resume, please bring them. They are appreciated, but not required. Be prepared with conflict dates for rehearsals and performances, if any.
If you cannot make auditions, please email your headshot and resume for consideration along with a video of yourself performing your monologue. You may email them to contact@ltvb.com
AUDITION REQUIREMENTS
(1)  MONOLOGUE: A monologue is not required, but certainly optional! If you have something you would like to show us please bring it in!
(2)SIDES: Sides will be provided for cold readings of the script. Come in with an idea of which character you want to audition for!
(3)  SELECT SKILLS: If you can dance ballet en pointe or play the xylophone (or another percussive instrument) come prepared to showcase that talent!
PERFORMANCE DATES:
September 14th, 15th, 16th, 21st, 22nd, 23rd, 28th, 29th, 30th and October 6th, 7th, and 8th. Friday and Saturday performances start at 8pm; Sunday performances start at 2:30pm.
REHEARSALS:
Rehearsals will begin on July 30th and run Mondays – Thursdays from 7-10pm and Saturdays from 10am – 3pm. Remember, if you are cast in the show, you are making a commitment to attend these rehearsals.
More information regarding auditions will be updated as things arise. Most importantly, get the date on your calendar and get ready to audition for this fun-filled show!
CHARACTER BREAKDOWN
NOTE: Character age range is approximate and meant to convey the stage playing age or how the character should look, not the actual age of the performer. Performers of ALL ethnicities will be considered for ALL roles; casting is not color specific.
MARTIN VANDERHOF (60-75): Snake enthusiast. Clever, generous, and wanted for tax evasion, Martin is patriarch of the extended Sycamore brood. He is the definition of non-traditional and provides a welcome home to the artistic and slightly odd.
PENELOPE SYCAMORE (40-55): Playwright and painter. The mother of Alice and Essie and the daughter of Martin, Penelope is hardworking, brilliantly creative, and frank. She writes multiple plays at a time, often concerned with less than savory subjects. She understands that Alice is different from the rest of the family, and desperately wants her to find happiness.
PAUL SYCAMORE (40-55):  Pyrotechnician. Husband to Penelope and father to Alice and Essie, Paul spends most of his time in the basement creating new and explosive fireworks. Paul possesses both a genius for chemistry and a childlike wonder, and although he loves his family dearly, he is often singularly focused on his projects.
ALICE SYCAMORE (20-26): Secretary. In a family of distracted artists and erratic geniuses, Alice is remarkably "normal". She is deeply in love with Tony, but fears that he won't understand her non-traditional family. Although she loves her off-beat clan, Alice tries to pass them off as normal for the sake of the Kirby's.
ESSIE CARMICHAEL (25-35): Ballet Dancer and Confectioner. Essie is soft, distracted, and always dancing. She is often found in the kitchen experimenting on new candies. This role requires extensive dancing, and basic pointe skills are preferred.
ED CARMICHAEL (25-35) Xylophonist and Printer. Ed's airy, innocent personality is perfectly suited to his wife, Essie. He provides much of the music that Essie dances to, and likes to block print random phrases he picks up throughout the day. Ed is one of the few members of the Sycamore family who regularly leaves the house, acting as a delivery boy for Essie's candies. Xylophone skills are a plus.
RHEBA (25-35) Housekeeper. Although Rheba's official job is that of a housekeeper, her culinary and cleaning skills are somewhat lackluster. Rather she functions as a constructive critic and champion of the various artistic pursuits occurring in the Vanderhof household. Rheba is bubbly, quick witted, and flirtatious, the favorite of both Donald and Kolenkhov.
DONALD (25-35) Handyman. Donald is chronically unemployed and performs various odd jobs for the Sycamores. He is sweet and a little bit slow, but is fiercely loyal to Rheba and his chosen family.
DE PINNA (40-55) Pyrotechnician and model. Mr. De Pinna is  the mailman turned pyrotechnician that assists Paul in the creation of explosives. Clever, proud, and a little vain, Mr. De Pinna also moonlights as a model for Penelope's paintings.
BOLUS KOLENKHOV (40-55) Ballet instructor and tsarist. Kolenkhov is Essie's tough-love Russian ballet instructor. He is aggressive, loud, and still bitter about the Bolshevik revolution. This very physical role that requires some fight choreography. A Russian accent is preferred.
TONY KIRBY (20-26) Businessman. Tony is young, open-minded, and deeply in love with Alice. He is vice president to his father's Wall Street company, but finds the artistic life of the Sycamores to be much more appealing.
KIRBY (40-55) Businessman. Mr. Kirby is Tony's uptight, overstressed father. He has constant indigestion, and finds his only joy in the cultivation of expensive orchids. He is deeply unsettled by the alternative lifestyle of the Sycamores. This role also requires minor fight choreography.
MRS. KIRBY (40-55) Housewife. Mrs. Kirby is the long suffering wife of Mr. Kirby and the mother of Tony. She has a delicate constitution and very particular tastes, but finds emotional solace in spiritualism. She is secretly very bored by her life and would appreciate a little bit of spice in her marriage.
GAY WELLINGTON (50-65) Actress. Gay Wellington is a drunken actress well past her prime, brought to the Vanderhof house to perform in one of Penelope's plays. She spends most of the play drunk and/or unconscious. This role is especially physical and requires fight choreography.
OLGA KATERINA (50-60) Waitress. Olga Katerina was a Grand Duchess and cousin to Tsar Nikolai II, but now works as a waitress in a diner. Despite her reduced circumstances she holds herself with immense dignity and is still exceptionally generous. She is an amazing cook and is brought to dinner by Kolenkhov. Ability to do a Russian accent is preferred.
HENDERSON (30-40) IRS agent. Henderson arrives at the Vanderhof house to alert Martin that he has over 20 years worth of unpaid back taxes. He leaves infuriated and perplexed by the unusual Sycamore family, who seem play exclusively by their own rules.
THREE GOVERNMENT OFFICIALS (age and gender flexible) These characters come to take the Sycamore's and the Kirby's to jail. They only have a few lines but are very physical roles.